Material
Innovative design requires innovative materials.
Manufacturing & Innovation
Clarino's™ commitment to innovation, sustainability and quality has paved the way for new manufacturing techniques and a greener production.
The secret to Clarino's™ superior strength and supple hand-feel is the ultra-fine fibre technology. The material is composed of a non-woven fabric consisting of ultra-fine fibres which are impregnated with polyurethane. This helps the fibre to be more flexible and easier to process.
The spinning process creates an islands-in-the-sea structure. The fibres are known as islands and the matrix is the sea. This islands-in-the-sea-structure is one type of two-component fibre whereby many fibres of one polymer are dispersed in the matrix of another polymer.
Responsible innovation.
Clarino™ fibres are more flexible and move freely within the spaces of the fabric matrix. The result is greater suppleness and unparalleled softness!
Our man-made leathers contain microfibres as fine as 0.004 dr or less to imitate collagen fibre bundles, thereby attaining the soft feel and appearance essential for soft leather use.
The high-end manufacturing process allows for state-of-the-art manufacturing capabilities, high durability and unsurpassed quality consistency to provide our customers with both unmatched luxury and the finest technology.
Thanks to the very fine structures of the microfibre, it can be treated with traditional finishing methods used by tanneries. Due to various finishes and treatments, unique and exclusive surface structures can be created. Furthermore, Clarino™ products can be perforated, embossed, printed, laminated and dyed in almost any colour, giving plenty of scope for creativity.
1. Create yarn
Polymer A and Polymer B are placed into a machine and comes out as yarn.
2. Spinning & Cutting
Yarn is spun and cut into small pieces.
3. Carding
Small pieces are intertangled to create sheets of non-woven fabric called "basecloths".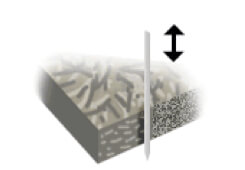 4. Needle punching
Needles are punched through the basecloth.
5. Impregnation
Basecloths are impregnated with solvent containing polyurethane resin.
6. Coagulation
Basecloths are passed through water causing the polyurethane to coagulate, leaving the non-woven sheet with a porous structure.
7. Extraction
One component is extracted, which leaves behind bundles of microfiber. This non-woven sheet is now called "substrate".
8. Finishing
If substrate is buffled, napped and dyed in the finishing process, it becomes suede-type CLARINO. If substrate is coated with polyurethanes, it becomes grain-type CLARINO.
Benefits

Clarino™ is the sustainable and practical alternative to leather.

Clarino combines many advantages of leather to offer quality and beauty at the highest level. What you feel is a silky, velvet-like-soft fabric experience with unsurpassed lightness. What you see is a fascinating freshness, refined elegance and attractive versatility.
Thanks to its super lightweight, Clarino™ is extremely pleasant to wear. The silky, velvety touch of the suede types make it most suitable for applications where a luxurious appearance is required. Grain-type Clarino™ gives an elegant look to accessories or furniture.
Are you interested in Clarino™?
We're here for you. Fill out the contact form and a Clarino team member will be in touch with you shortly.